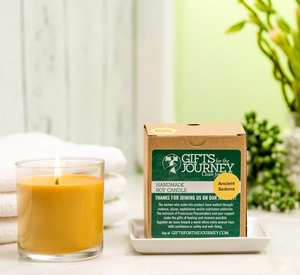 JustGoodsOnline
Candle Ancient Sedona Soy & Essential Oils - Lg 8oz
Regular price
$18.00
$0.00
Unit price
per
Be transported to the deserts of the southwestern US with this floral amber with hints of mandarin leaf and orange blossom.  A somewhat masculine scent with a gorgeous golden tone, bring some richness and depth to your living space!
Gifts for the Journey supports the Franciscan Peacemakers providing a pathway to a sustainable healthy, safe and productive life for women in transition  

Benefits of Eco Friendly Soy Candles
Cleaner burning - no toxins, carcinogens or pollutants which means it's less likely to trigger allergies. No petrol-carbon soot like you get from petroleum-based paraffin candles. 
Longer lasting - soy wax burns cooler which means that you can enjoy your soy wax candle for generally 30-50% longer than a paraffin candle.
Supports US farmers.  
Biodegradable and water soluble - since our candles are made out of soybeans, they are naturally biodegradable which makes accidental spills easier to clean. 
Stimulates the economy by utilizing a natural, renewable resources.
No lead or zinc cored wicks - all our wicks are made of either cotton, paper or hemp.
9oz candle. 
---