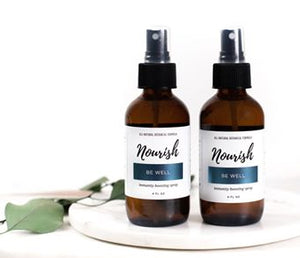 Natural Nourish Products
Be Well Essential Oil 100% Natural Spray
Regular price
$18.00
$0.00
Unit price
per
Natural Nourish's Popular Be Well spray. 
Small actions can have a positive impact on your health—like a spritz of Nourish Be Well Immune Boosting Spray. This 100% natural, nontoxic spray freshens stale spaces in home, office, or car with a gentle immunity-boosting mist into the air.
Carefully blended with time-trusted essential oils, this naturally-scented room spray may help boost the immune system, promote respiratory health, and fight microbes. Ideal to spritz in the air or on surfaces like kitchen counters, doorknobs, bathroom vanities, and sink handles to help rid of many germs.
Ingredients: - Organic Essential Oils: Clove, Lemon, Cinnamon Bark, Eucalyptus, Rosemary - Other Ingredients: Pure Witch Hazel, Distilled Water Directions: Gently shake before each use. Spritz rooms and surfaces to eliminate germs and freshen the air. Size: 4 oz glass bottle with atomizer
Nourish Commitment ALL of our products are free from: Aluminum, Parabens, Triclosan, Phthalates, Talc, Silica, PEGs, Steareths, TEA/DEA, and Synthetic Fragrances.
---