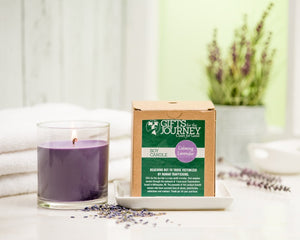 Gifts for the Journey
Candle Lavender - Lg 100% Natural, Soy & Essential Oil 8oz
Regular price
$20.00
$0.00
Unit price
per

Eco-friendly Candles with a Mission to Care for Others
Bring the lovely, calming scent of our wildly popular Lavender soy candle into your living space. 

Gifts for the Journey gives voice and vocation to the survivors of human sex trafficking in the greater Milwaukee area. 
Benefits of Eco Friendly Soy Candles
Cleaner burning - no toxins, carcinogens or pollutants which means it's less likely to trigger allergies. No petrol-carbon soot like you get from petroleum-based paraffin candles. 
Longer lasting - soy wax burns cooler which means that you can enjoy your soy wax candle for generally 30-50% longer than a paraffin candle.
Supports US farmers.  
Biodegradable and water soluble - since our candles are made out of soybeans, they are naturally biodegradable which makes accidental spills easier to clean. 
Stimulates the economy by utilizing a natural, renewable resources.
No lead or zinc cored wicks - all our wicks are made of either cotton, paper or hemp.
---