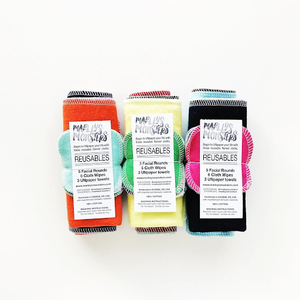 ECO
REUSABLE CLOTH SAMPLER SET - Mixed Solids
Regular price
$22.00
$0.00
Unit price
per
Our REUSABLE CLOTH SAMPLER includes a few of our Best Sellers to test:
5 Facial Rounds 
6 Cloth Wipes and
3 UNpaper® Towels
3 UNPAPER® TOWELS

Each measures 12"x10" and made from 100% cotton flannel, making them the perfect replacement for disposable paper towels. Our fun, bold solids add a little fun to your daily household chores, and are a great addition to your eco-friendly household!
6 CLOTH WIPES

Each measures 8"x7" and made from 100% cotton flannel. Multifunctional wipes that can be used as napkins, tissues, toilet paper, washcloths, baby wipes, etc.
5 FACIAL ROUNDS

These are 3"x3" and 100% cotton flannel. These are great to replace cotton balls or facial rounds. Use them for your facial routine, first aid or baby care. Facial rounds are 2 ply.
Edges are serged for durability and to prevent fraying.

Handmade by Marley's Monsters in Eugene, Oregon.

Made in United States of America
---